The Real Meal Revolution
The Radical, Sustainable Approach to Healthy Eating
By Sally-Ann Creed, Tim Noakes, Jonno Proudfoot
Format: Paperback, 304 pages
colour photos throughout from photoshoot
Published In: United Kingdom, 30 July 2015
'Scientists labelled fat the enemy ...they were wrong' Time magazine. We've been told for years that eating fat is bad for us, that it is a primary cause of high blood pressure, heart disease and obesity. The Real Meal Revolution debunks this lie and shows us the way back to restored health through eating what human beings are meant to eat.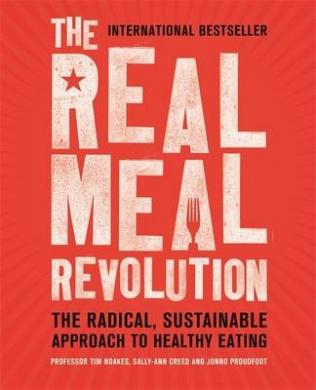 This book will radically transform your life by showing you clearly, and easily, how to take control of not just your weight, but your overall health, too - through what you eat. And you can eat meat, seafood, eggs, cheese, butter, nuts ...often the first things to be prohibited or severely restricted on most diets. This is Banting, or Low-Carb, High-Fat (LCHF) eating, for a new generation, solidly underpinned by years of scientific research and by now incontrovertible evidence. This extraordinary book, already a phenomenal bestseller, overturns the conventional dietary wisdom of recent decades that placed carbohydrates at the base of the supposedly healthy-eating pyramid and that has led directly to a worldwide epidemic of obesity and diabetes.
Both a startling revelation, and as old as humanity itself, it offers a truly revolutionary approach to healthy eating that explodes the myth, among others, that cholesterol is bad for us. This is emphatically not just another unsustainable, quick-fix diet or a fad waiting to be forgotten, but a long-delayed return to the way human beings are supposed to eat.
Comments based on Amazon Reviews
I found this an excellent informative read on low carb healthy fat living. Well organised. Explains why a low carb and healthy/high fat diet is an excellent health choice. Fantastic healthy low carb, recipes . Well illustrated. Highly recommend for yourself or a gift.
Outlines the Banting way of eating. Easy to follow, delicious recipes with accessible ingredients to Australia. Good looking recipe book, a pleasure to view and use.
I have tried every "diet" book available. This one has worked for me, the key is sustainable eating plan rather than diet! Have lost 7kgs so far, weight loss continues. Wish I had tried this 15 years ago.
December 5, 2014
It's a great book describing the Banting low carb diet. It's mostly recipes, and its easy to find for a real price.

Most of the basic information is also on Dr. Noakes website and it's very similar to a lot of paleo eating plans and the revised Atkins book, i.e. the key point is low carb- no sugar, flour, potatoes, rice, etc. No vegetable oils. Lots of grass fed meat, fish, poultry, some fruit and cheese if it doesn't bother you, and lots of non starchy vegs. If you are insulin resistant, i.e. older and have gained a fair amount of weight, it will help you a lot. If you are not insulin resistant, i.e. pretty thin, then you probably don't need to worry about carbs at all
November 27, 2016
We had watched lectures by Tim Noakes on YouTube. The part of the book we like best happens in the last chapters with more scientific and narrative data. The recipes and photos seem complicated and appetizing. Good to have scientists from around the world to address the nutrition and health needs of all people. We are losing weight with the study results of Dr. Noakes as integrated with a personalized plan we can live with.
November 17, 2016
After many books, classes and online research into the healthful benefits of a very low carbohydrate diet, I am thrilled to find this book. It's all anyone needs to understand the origin of fat phobia, why eating fat is so good for you, understanding the metabolism of a ketogenic diet vs. a glucogenic diet, all of it! Very well written and easy to understand. Oh, and a slew of recipes too.
November 9, 2016
I have been eating this way for a year now Low carb high fat. Have never been healthier. Wish I would have know about this sooner.
October 28, 2016
The science behind the book compels the reader to rethink their eating habits. With a new appreciation of fat in our diets we can try another road to success.
October 21, 2016
Dr. Noakes has done his research and I found this book very informative and a joy to read. Mainstream medicine is definitely on the back burner when it comes to nourishing a healthy body.
October 20, 2016
I bought this book because Tim Noakes is the real deal when it comes to experimenting with running and endurance athletics research. My wife was (in years past) on the cusp of elite marathoner status. Many things she learned through trial and error, and through her exposure to other marathoners and coaches, ended up appearing later on in books by Tim Noakes. So color me a little bit surprised-but-not-so-surprised, when he lent his efforts to a book about low-carb eating. I've been a low-carber off and on since the 90's and was a proponent of Atkins back in the day.

There isn't much in this book that is very new (in fact that is the point, because the authors go through the long history of carb-restriction diets) for those of us who have read Atkins and similar books.

Where the book goes slightly off-track is in the pieces of the book that are poorly researched and full of some amounts of hyperbole. Those aren't the portions authored by Tim Noakes, but rather one of the other contributors.

Great book that everyone should read! LCHF changed my life, I have lost 100+ pounds on it and my health has improved vastly, with normalized blood pressure (after over a decade of High Blood Pressure), sleep apnea is gone, my skin cleared up, I have energy throughout the day with no more carb crashes/naps. I will continue to eat this way for life!