Type Two Diabetes
Getting too fat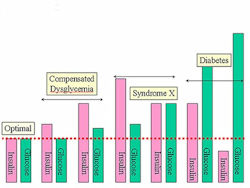 When insulin is "on" the body is trying to eliminate glucose from the blood. If carbohydrate intolerance/insulin resistance is developing, insulin struggles to deliver glucose into the cells as it should. Too much glucose in the blood signals the fat storage response.
Metabolic Syndrome

Metabolic syndrome is a form of pre-diabetes. It's caused by a growing intolerance of

carbohydrates in the diet. The metabolism of glucose becomes faulty. It develops slowly and progressively unless you take steps to stop it.
Carbohydrate restriction
When you restrict carbohydrates as on the

Banting Diet, the amount of insulin the body needs declines, and insulin sensitivity over time increases.